Ladies, our nails can be just as luxurious and classy as the clothes we wear! Here are some beautiful black nail designs to get inspired by. Whether you're going for a formal event or want to feel polished and put together, these designs will do the trick. So take a look and get ready to have gorgeous nails that everyone will envy.
In fashion, black is often seen as a color that conveys sophistication and luxury. This is certainly true when it comes to nail design. Black nails can be made to look extremely elegant and classy with the right combination of accessories and designs. So, if you're looking for ideas on how to create a luxurious black nail design, then read on! We've put together a few inspiration photos to get you started.
Is black nail polish a trend?
Are you wondering if black nail polish is still a trend? Many women are hesitant to try this look because they're unsure if it will be in style for long. In this blog post, we'll discuss the history of black nail polish and whether or not it is still fashionable. We'll also recommend some products that you can use to get the perfect black nail polish look. So, whether you're a beginner or an experienced manicurist, keep reading to learn more.
Although conservative in color, black nails can be spiced up with creative designs to produce a luxurious and classy look. Whether you are looking for a design for a special occasion or want something different, these designs will give your nails the wow factor. From simple accents to more intricate patterns, a design will surely suit your style. So why not give black nails a try? You may be surprised at how trendy they can be.
Black nail designs: contemporary examples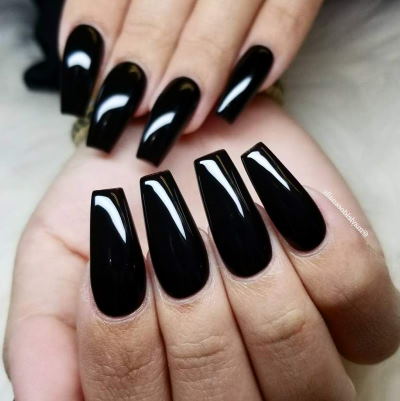 Nails are a popular way to showcase art and creativity. While traditionally, nails have been painted in shades of pink and red, black nail designs are becoming increasingly popular. We showcase contemporary examples of black nail designs that are both professional and stylish. So whether you're looking for a new look for your next event or want to add a touch of personality to your style, these designs will inspire you.
It's a known fact that nails can make or break an outfit. A carefully chosen nail color can match any ensemble, while a wrong color choice will spoil the whole effect instantly. So, for those of us looking for inspiration as to what the right color might be, here are some black nail design ideas for you to try at home.
Black is one of the most popular colors for nails, so you should have no trouble finding a design that will suit your tastes precisely. However, what can you do if none of the pre-designed variants catch your eye? Don't worry, our designers have come up with a few original black acrylic nail designs that might be perfect for you.